2022 Kia Sportage Towing Capacity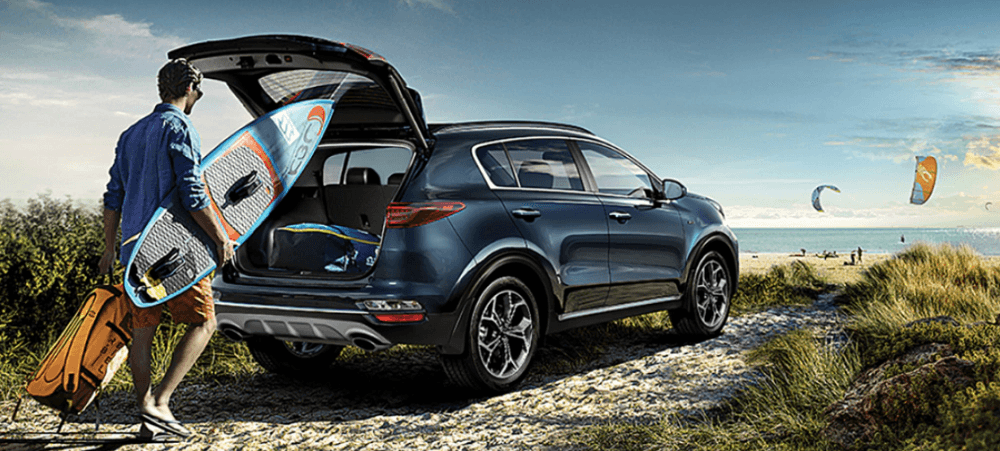 The 2022 Kia Sportage towing capacity ranges between 1,653 and 2,000 pounds depending on your equipment and the trim level of the model. The engine options on the new 2022 Sportage balance both towing power and fuel efficiency. Below, we'll highlight some performance aspects of the new Sportage, along with its towing capacity breakdown. To test drive the new Kia Sportage in person, explore our full inventory online and schedule a visit to our dealership today.
How Much Can the 2022 Kia Sportage Tow?
The towing capacity on the 2022 Kia Sportage is 2,000 pounds when properly equipped with trailer brakes on your trailer. If you don't have trailer brakes the Sportage towing capacity is 1,653 pounds. We always recommend that you get brakes for your trailer, as this not only allows you to tow more but keeps everyone safer.
If you're looking to haul things in your trunk, and not on a trailer, you're in luck. The 2022 Kia Sportage comes with plenty of cargo space, especially if you put the rear seats down. With the seats down, you'll get about 60 cubic feet of storage. If you need to keep those seats up, you'll still get about 30 cubic feet of storage space. This is typically more than enough for the average driver on a long road trip.
For those of you who do want the option for a little more storage space, the EX, S, and SX trims come with roof rails as a standard feature. This means you can add a storage carrier to the top of your Kia Sportage and give yourself some additional storage space. Using the interior cargo space, the towing capabilities, and the roof rails, you should have more than enough room to transport whatever you need.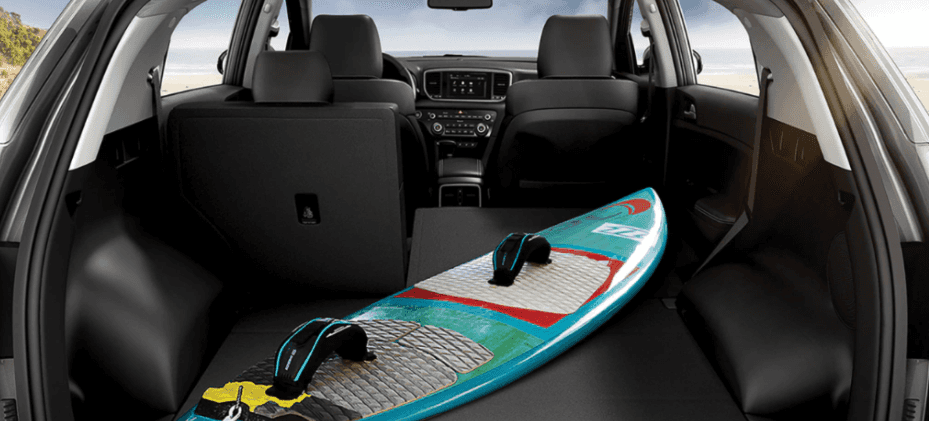 2022 Kia Sportage Engine Specs & Transmission
Let's start by going over the engine specifications of the 2022 Kia Sportage. The exact specifications vary a little depending on each trim level. The Sportage comes in four different trim levels: the Sportage LX, EX, S, and SX Turbo. Regardless of the trim level, though, under the hood, you'll find some powerful equipment that gives the Sportage its towing capabilities.
Inside the Kia Sportage LX, EX, and S models there is a 2.4-liter inline four-cylinder engine. The SX trim comes with a 2.0-liter turbocharged engine. Both of these engines provide more than enough power, especially considering the size of this compact SUV. The standard engine outputs 181 horsepower with 175 pound-feet of torque, while the turbocharged engine outputs 240 horsepower and 260 pound-feet of torque.
Another important specification when it comes to hauling and towing is the transmission. Each of these trims comes with a six-speed automatic transmission. You also have the option to get either front-wheel drive or all-wheel drive, depending on your preference. Upgrading to all-wheel drive may impact performance a little bit, but it also allows you better control over rougher surfaces.
2022 Kia Sportage MPG Ratings and Towing
Finally, there are the updated fuel economy stats for the newly released 2022 Kia Sportage. On the LX, EX, and S trim levels, you'll find an EPA-estimated 30 mpg on the highway and 23 in the city. For the turbocharged S model, you'll get 26 and 21 mpg, respectively. However, these are figures for when you're not hauling anything. If you are towing something heavy, your efficiency may drop a little. That being said, the efficiency of the 2022 Kia Sportage is rated high meaning that, especially for an SUV of this size, that even a little drop-off still provides great fuel economy for long distance driving.*

What Can You Tow With A New 2022 Kia Sportage?
Knowing the Kia Sportage can tow up to 2,000 pounds is a useful fact, but what does it mean in terms of everyday trailiering? While everything has its own weight, generally speaking, your Kia Sportage would likely be able to haul a small boat or pop-up camper.
Your best bet is to find the weight of the specific things you want to tow, either by looking them up online or checking out an owner's manual, and see if they are under 2,000 pounds. Keep in mind that whenever you tow something, you must also factor in the weight of the trailer itself. This also goes for anything that goes along with what you're towing, such as fuel tanks or other supplies.
Learn More About the 2022 Kia Sportage at Kia of Streetsboro
The 2022 Kia Sportage is an excellent illustration of the diversity of the Kia model lineup. Whether you're looking for something to transport your kids around town or take on a long road trip, this model has a lot to like. However, if you're not sure if it's right for you, let Kia of Streetsboro assist you.
Our expert sales staff can show you everything there is to know about the 2022 Kia Sportage during a test drive. We can answer your questions and help you decide if it's the right model for you. You can also tell us what exactly your goals are for your next vehicle, what you're planning to tow, and for how far. We can help you find the right model for your needs and budget. For any questions or to learn more about our current offers, contact our team today.
*Based on 2021 EPA estimates for comparison uses only